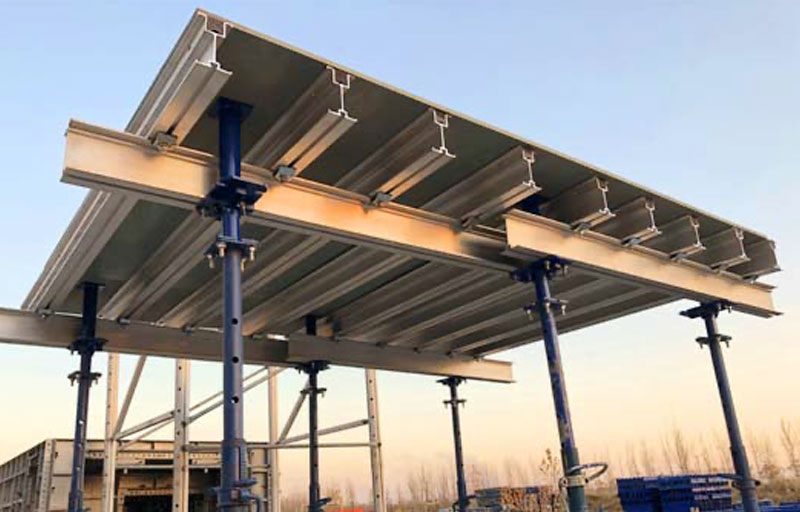 Aluminum Shoring Props System with Early Stripping
· Aluminum 12K with Early Stripping System provides simple but cost-effective solution for flat slab or slab with drop beams.
· This system can offer early stripping. After pouring concrete, remove the aluminum beams to next casting area and keep the shoring prop to support the slab, so this is an economical solution for the user.
Brand Name
Alulite Forms
Place of Origin
Qingdao, China
Certificate
ISO9001; CE; SGS
Material
Aluminum Alloy 6061-T6; Steel
Usage
Slab/Ceiling casting
Plywood
Need
Early Stripping Application
Yes
Components
Drop Head, Aluminum Beam Joist, Aluminum Beam Ledger, Adjustable Shoring Prop, U-Head Assembly, Tri-Pod Assembly, Plywood
Beam material is aluminum alloy 6061-T6, whose weight is lighter compared with wooden beams or steel beams.
Adaptability to All Slab Types
The 12K system can complete any required slab layout by cutting the aluminum beam and plywood.
The aluminum beam and plywood are versatile materials which can be used in other formwork systems.
The early Stripping application will reduce the transit time of all aluminum beams and the steel accessories. It will improve the construction efficiency.
With early Stripping application, the user only need buy one floor of aluminum beam and 2 floors of shoring prop, but can finish two floors with cycle time 7-10 days per floor.
Our aim is to supply our customers with safe, efficient, economical, environmental protecting, and energy-conserving products and manage to make construction much easier.