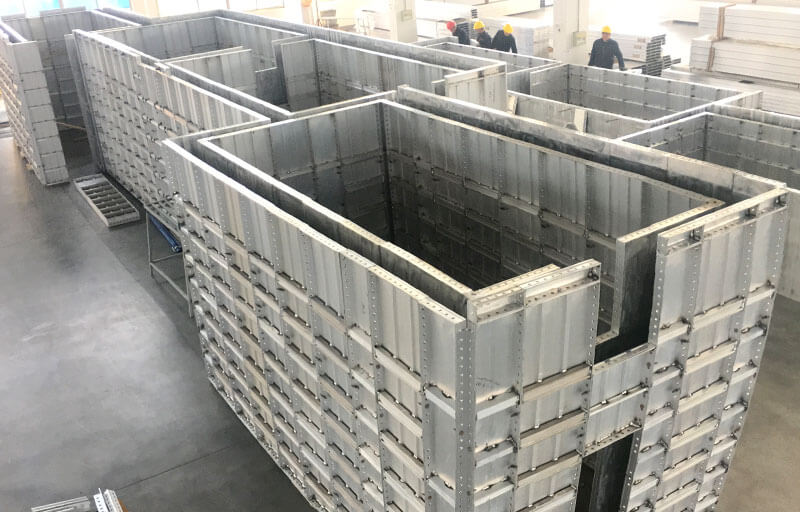 Aluminum Panel System
Tie Rod Type
· Aluminum panel system is a new integrated forming and shoring system.
· It is a flexible solution for monolithic casting or two-stage casting of walls, beams, slabs and staircases.
· The panels are reinforced by tie rods or flat ties, which can make sure good verticality of wall.
· The smooth concrete surface finish after stripping eliminates the need of costly plastering.
Brand Name:
Alulite Forms
Place of Origin:
Qingdao, China
Certificate:
ISO9001; CE; SGS
Material:
Aluminum Alloy 6061-T6
Aluminum Thickness:
4mm
Side Rail Thickness:
8mm
Extrusion Profile:
Yes
Weight:
25kg/sqm
Reuse Times:
>300 times
Surface:
Special Coating
Panel Width:
500mm
Panel Length:
Customized
Feature:
Monolithic casting
Early Stripping:
Yes
Application:
House, Appartment
Reshore:
No Need
Plastering:
No Need
Plywood:
No Need
Connection Method
Use tie rod and wing nut to reinforce the panels
The panel material is aluminum alloy 6061-T6.
Weight 25kg/m2 makes manpower carrying possible.
The panel system can be lifted by tower crane in whole, or dismantled and installed by labors. It can realize casting of wall, beam, slab and staircase monolithically or in two stage casting.
The panel is made of extrusion profiles with high strength. It is not easy to be deformed by external force or water erosion. The panel can be used more than 300 times with appropriate usage and maintenance.
Main panel width 500mm makes the concrete surface more smooth and fewer joints. The verticality is better than concrete surface made by plywood or steel formworks.
1. Early-dismantling application improves the form cycle and saves cost for users.
2. No need to re-shore.
1. Assembled easily with only pins & wedges, tie rods & wing nuts. Labors can finish the installation and dismantle with hammers.
2. No need to plaster the concrete surface after concrete pouring.
Our aim is to supply our customers with safe, efficient, economical, environmental protecting, and energy-conserving products and manage to make construction much easier.